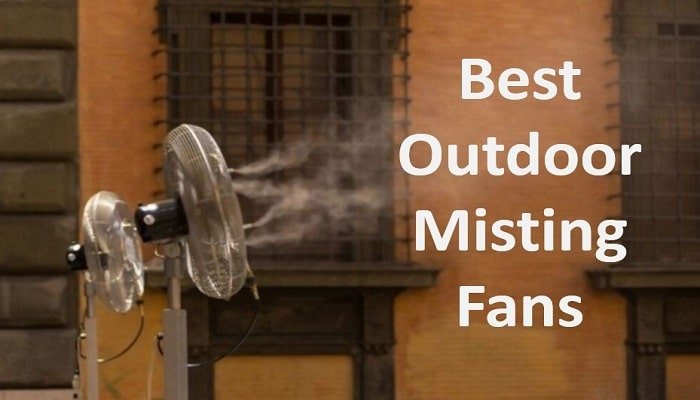 Looking to beat the summer heat and create a comfortable outdoor atmosphere? Well, let me tell you about the amazing world of misting fans! These little wonders can make a significant difference, especially during those scorching summer seasons. They're designed to blow a fine mist into the air, creating a refreshing fog that quickly dissipates. Trust me, the best outdoor misting fans are the perfect companions for your fabulous backyard parties, poolside get-togethers, and sizzling BBQs.
Remember that feeling of walking around an amusement park or dining at a fancy outdoor restaurant, and suddenly being enveloped in a delightful spray of mist? Ever wondered how you could recreate that magical experience in your very own backyard? Well, wonder no more!
On those hot and humid days, a regular fan simply won't cut it. It just ends up moving hot air around without providing any real relief. That's where misting fans come to the rescue! These fantastic devices not only circulate the air but also reduce the temperature, making the heat much more bearable for you, your guests, and even your furry friends.
Also Read: Best Large Outdoor Standing Fan
In this article, we're going to dive into the world of misting fans and explore how they can benefit your outdoor space. We'll discuss how they cool the surrounding air and just how effectively they work in making those summer days and nights a whole lot more comfortable.
The beauty of misting fans is that they come in various sizes, can be used anywhere, and keep you cool without leaving you drenched. And guess what? If you connect your outdoor misting fan to your garden hose, you won't even have to worry about refilling water tanks constantly.
Now, here's the real deal – a top-notch misting fan should have excellent features, high performance, and a reasonable price tag. After researching and reviewing different models available, we've compiled a list of the absolute best outdoor misting fans for you. This handy guide will assist you in the selection process, ensuring that you find the perfect misting fan that ticks all the boxes.
So, get ready to enjoy the ultimate cooling experience in your outdoor oasis! Let's explore the world of misting fans and discover the perfect one to keep you and your loved ones cool and comfortable all summer long.
Best Outdoor Misting Fans Reviews
Lasko 7050 Misto Outdoor Misting Fan
Specifications
Air Temperature Reduction: Up to 25 degrees
Ideal for: Picnics, decks, patios, sports, and DIY projects
Mist Flow Direction: 90-degree pivot
Louvers: Automatic
Speed Settings: Three
Finish Type: Black
If you're searching for a reliable way to beat the heat and enjoy the outdoors, look no further than the Lasko 7050 Misto Outdoor Misting Fan. This fantastic fan is designed to keep you cool and comfortable, even on the hottest days.
One of the standout features of the Lasko 7050 Misto is its versatility. Whether you're planning a picnic, unwinding on your deck, hosting a patio gathering, engaging in sports activities, or working on DIY projects, this misting fan is the perfect companion. It creates a refreshing mist that helps cool down the air temperature, providing much-needed relief from the sweltering heat.
Thanks to its 90-degree pivot functionality, you have the freedom to direct the mist flow precisely where you need it most. This ensures efficient mist distribution without any waste. Plus, the automatic louvers sweep the mist in a wide pattern, ensuring even coverage across your desired space.
Also Read: Best Fan for Garage Gym
Adjustability is another strong point of the Lasko 7050 Misto. It offers three refreshing speeds, allowing you to customize the fan's intensity to match your preference and the weather conditions. Whether you desire a gentle mist for a relaxed atmosphere or a stronger burst of coolness for extreme heat, this fan has got you covered.
In terms of style, the Lasko 7050 Misto features a sleek black finish that effortlessly blends with various outdoor settings. Not only does it provide a refreshing breeze, but it also adds a touch of elegance to your patio, deck, or any other outdoor area where you decide to place it.
To sum it up, the Lasko 7050 Misto Outdoor Misting Fan is unquestionably one of the best options for outdoor cooling. With its ability to effectively lower the air temperature, versatile functionality, wide mist coverage, and adjustable speeds, it offers a refreshing and comfortable experience outdoors. Whether you're hosting an event or simply enjoying some downtime, this fan is a must-have for anyone seeking relief from the heat and an enjoyable outdoor atmosphere.
Pros
Versatile and suitable for various outdoor activities
Adjustable mist flow direction
Automatic louvers create a wide sweep of mist
Three refreshing speed options
Sleek black finish adds style to outdoor spaces
Cons
No significant drawbacks identified
Cool-Off Tropic Breeze Portable Misting Fan With Water Tank

Specifications
Outdoor-rated motor
Coverage: Up to 25 feet
3-speed operation
10-gallon water tank
Adjustable height: 60″ to 76″
90-degree oscillating head
Runtime: 8 to 10 hours
The Cool-Off Tropic Breeze Portable Misting Fan with Water Tank is an outstanding choice for anyone looking to beat the heat and enjoy the outdoors. Designed with your comfort in mind, this misting fan delivers excellent performance, durability, and versatility. Let's explore the fantastic features of this must-have outdoor cooling solution.
Built to last, the Cool-Off Tropic Breeze Portable Misting Fan is crafted using top-notch materials. Its sturdy construction ensures both functionality and visual appeal. The fan's outdoor-rated motor can cover a generous 25 feet of space, making it ideal for larger outdoor areas and even more effective in calmer climates.
Say goodbye to annoying fan noises! The Cool-Off Tropic Breeze operates quietly, allowing you to relax and enjoy your outdoor space without any buzzing or vibrating disturbances. With three adjustable speed settings, you can easily customize the airflow to create the perfect atmosphere for your comfort.
Also Read: Best Pedestal Fan with Remote
Transporting this misting fan is a breeze, thanks to its 3″ oversized swivel wheels and convenient safety brake. Whether you're moving it to your patio, backyard, or any other location, you'll have no trouble maneuvering this portable fan. Plus, with a runtime of 8 to 10 hours, you can enjoy uninterrupted cooling for extended periods.
The Cool-Off Tropic Breeze Portable Misting Fan offers more than just cooling. Its 10-gallon water tank allows you to provide a high humidity environment, making it perfect for misting your tropical plants and helping them thrive. Additionally, the fan's adjustable height and telescopic neck provide easy customization, ranging from 60″ to 76″ in height. The 90-degree oscillating head ensures broader coverage, ensuring faster and more efficient cooling.
The Cool-Off Tropic Breeze Portable Misting Fan with Water Tank is the ultimate outdoor cooling companion. With its impressive performance, quiet operation, and convenient portability, it guarantees a refreshing mist and cool breeze wherever you go. Its durable construction ensures long-lasting use, while the adjustable features add versatility to your cooling experience. Say goodbye to sweltering summer days and embrace the comfort of the Cool-Off Tropic Breeze Portable Misting Fan. Stay cool, comfortable, and enjoy the great outdoors to the fullest.
Pros
Durable construction
Quiet operation
Portable with swivel wheels
Adjustable speed settings
Versatile usage for misting plants
Adjustable height and oscillating head
Cons
Requires frequent water tank refills
EGO Power 18-Inch 5 Speed 20MPH Portable Misting Fan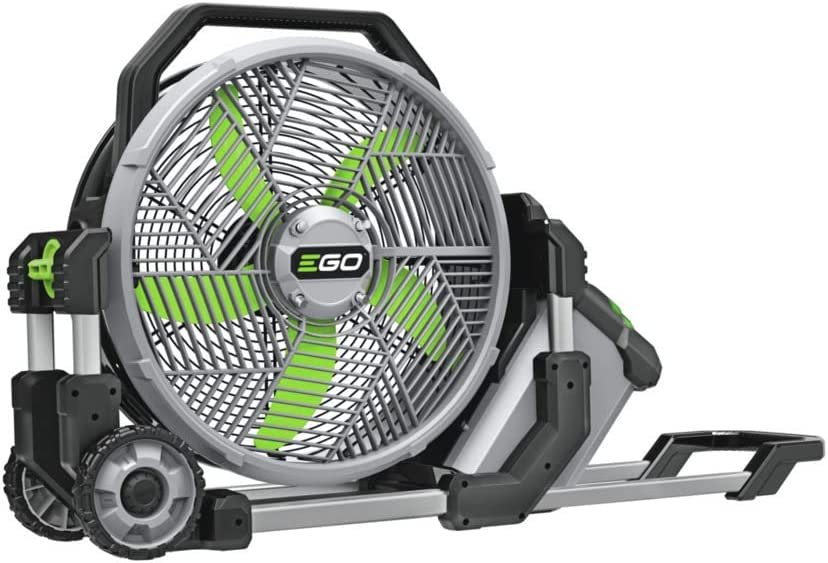 Specifications
Airflow: Up to 5,000 CFM
Air Flow Comparison: 2x more than standard 20″ box fans
Run Time: Up to 60 hours (with recommended battery, sold separately)
Portability: Telescopic handle and durable wheels
Air Speed Settings: 5 settings from 1,500 to 5,000 CFM
Misting Modes: Intermittent and continuous
Misting Nozzles: 4
The EGO Power 18-Inch 5 Speed 20MPH Portable Misting Fan is an exceptional outdoor cooling solution that offers powerful performance. With its maximum airflow of up to 5,000 CFM, this fan delivers double the air flow compared to standard 20-inch box fans, ensuring a refreshing and cool breeze on hot days.
One of the standout features of this misting fan is its impressive run time. When paired with the recommended 5.0Ah 56V ARC Lithium battery (sold separately), you can enjoy up to 60 hours of continuous operation on the lowest speed setting. This means you can stay cool for extended periods without worrying about running out of power.
Designed with convenience in mind, this fan is equipped with a telescopic handle and durable wheels, making it easy to transport and position wherever you need it. Whether you're hosting an outdoor gathering, enjoying a day at the beach, or working on projects in the yard, this portable fan is ready to provide you with a cooling breeze.
Also Read: Best Air Circulator Fan
The EGO Power Misting Fan offers five air speed settings, allowing you to customize the airflow according to your preference. Additionally, it features two misting modes: intermittent mode, which effectively manages water usage, and continuous mode, perfect for those hot and sunny days. With four misting nozzles, you can enjoy a fine mist that helps lower the ambient temperature, keeping you cool and comfortable.
The EGO Power 18-Inch 5 Speed 20MPH Portable Misting Fan is an outstanding choice for anyone seeking a reliable and high-performance outdoor misting fan. Its powerful airflow, long run time, portability, and adjustable settings make it an excellent companion for staying cool during the summer months. Experience the ultimate comfort and refreshment with this feature-packed misting fan.
Pros
Powerful airflow for effective cooling
Long run time for extended use
Portable design with telescopic handle and wheels
Adjustable air speed settings
Multiple misting modes and nozzles for customization
Cons
Requires separate battery for maximum run time
Geek Aire Rechargeable Outdoor Misting Fan
Specifications
Powerful Cordless Battery Fan with 1500CFM airflow.
3 nozzles for refreshing cool mist up to 11.5ft.
Detachable battery for 3-24 hours of fan time.
Lightweight (7.1 lbs) for easy portability.
Waterproof, rustproof, UV-resistant, and operates at 24v DC for safety.
The Geek Aire Rechargeable Outdoor Misting Fan is a powerful and convenient solution for staying cool on the go. Unlike traditional plug-in fans, this cordless battery fan offers a hassle-free experience with its 1500CFM airflow. Whether you're at the beach, camping, or enjoying outdoor activities, this fan provides a refreshing and cooling sensation wherever you need it.
One of the standout features of this misting fan is its ability to lower the temperature with a cool mist. Equipped with three nozzles, it can spray a refreshing mist up to 11.5ft. You can easily adjust the mist coverage and distance with its 360º up and down pivot, allowing you to customize the cooling experience. It's a great way to beat the heat during hot summer days.
The detachable battery adds to the fan's versatility and performance. With a fully charged battery, you can enjoy 3-24 hours of fan time. But what makes it even better is that you can get additional batteries and pre-charge them. This way, you can extend the operation time to 6-48 hours or even 9-72 hours. The added bonus is that the battery can also serve as a power bank to charge your mobile devices, making it a handy tool for camping or other outdoor adventures.
Also Read: Best Battery Operated Fans for Camping
Portability is another key advantage of this misting fan. Weighing just 7.1 lbs and compact in size (16.1″x8.1″x16.1″), it's easy to carry around. Whether you're on your porch, deck, patio, job site, farm, picnic, or BBQ, this fan won't take up much space in your car trunk. It's designed to provide a cool breeze wherever you need it.
Safety is a top priority with the Geek Aire Rechargeable Outdoor Misting Fan. Constructed with strong ABS material and a thickened coating, it is waterproof, rustproof, and UV-resistant. Operating at 24v DC, which is much lower than household voltage, ensures safe usage for your peace of mind.
The Geek Aire Rechargeable Outdoor Misting Fan offers powerful cooling, portability, and safety. Its misting function, long-lasting battery, and compact design make it an excellent choice for outdoor activities. Whether you're relaxing or working outdoors, this fan provides a convenient and refreshing solution to beat the heat.
Pros
Cordless design for hassle-free use
Refreshing misting feature lowers the temperature
Detachable battery extends operating time and serves as a power bank
Portable and lightweight for easy transportation
Durable and weather-resistant for outdoor use
Cons
Additional batteries sold separately for extended use
COSTWAY Oscillating Outdoor Misting Fan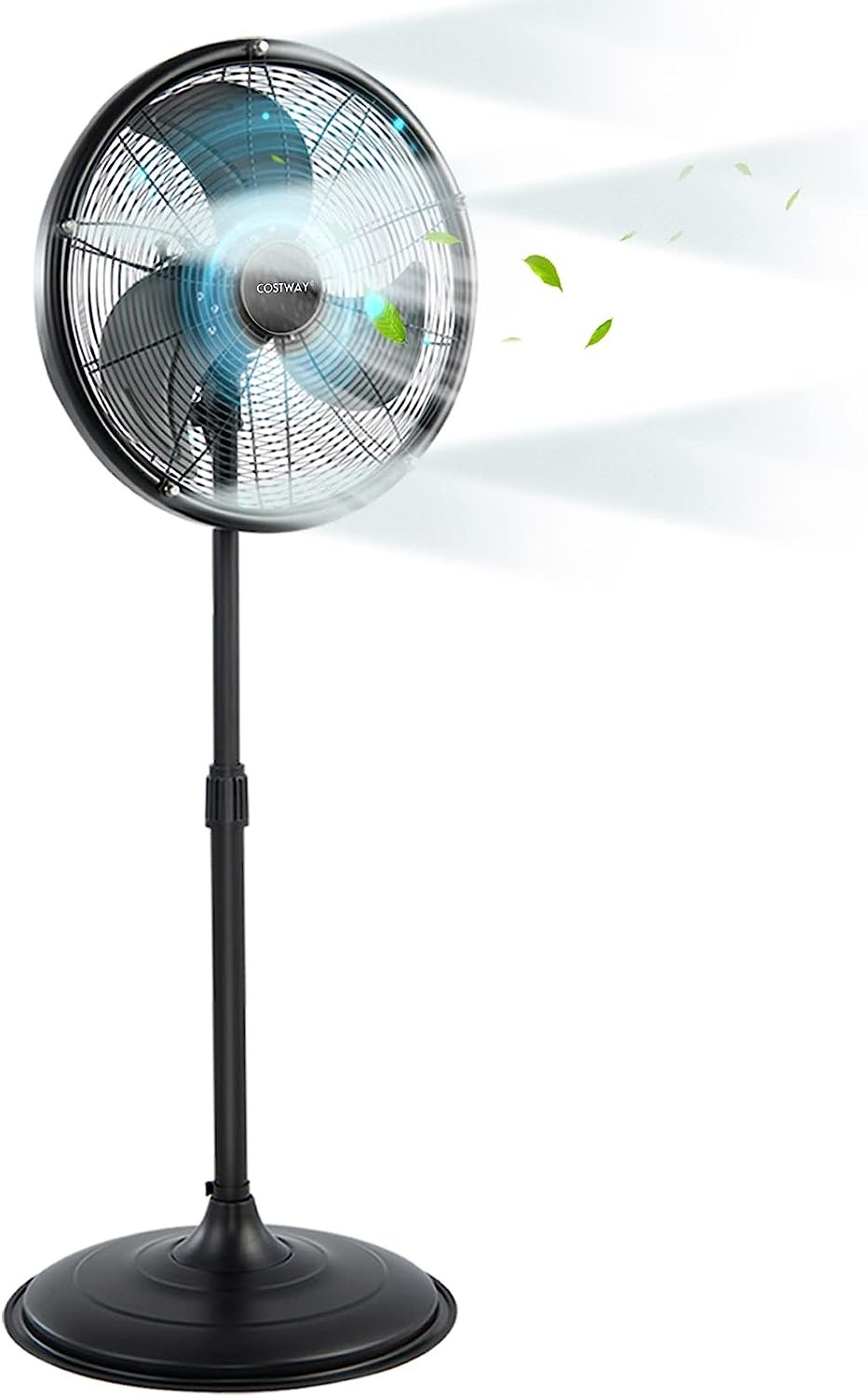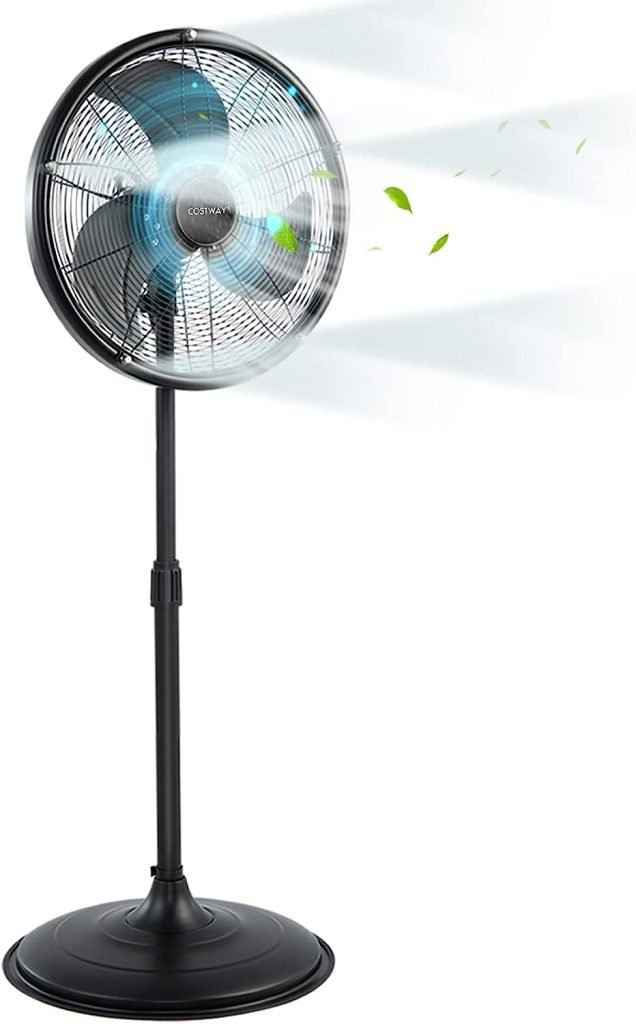 Specifications
5 mist nozzles
6.5ft water inlet pipe
3 adjustable fan speeds
Powerful copper motor
Adjustable height and 90° oscillation
Sturdy and rustproof steel frame
Easy assembly
The COSTWAY Oscillating Outdoor Misting Fan is an excellent choice for keeping outdoor spaces cool and comfortable. It offers a steady misty wind with 5 mist nozzles, providing a significant temperature decrease of up to 5.4-21.6℉. The fan comes with a 6.5ft water inlet pipe that connects directly to a standard garden hose, ensuring a continuous water supply.
With 3 adjustable fan speeds and an easy-to-use knob, you can customize the airflow to meet your needs. The powerful copper motor can blow strong winds up to 33 ft/10 m away. The fan also features adjustable height (41″-55″) and wide oscillation (90°), covering a larger area and cooling it faster.
Also Read: Best Quiet Pedestal Fans
Made with a sturdy and rustproof steel frame, this misting fan is built to last and withstand outdoor conditions. The enlarged round base adds stability, preventing the fan from tipping over. Assembly is quick and easy, and it is suitable for both residential and commercial use, including outdoor restaurants, patios, and workshops.
The COSTWAY Oscillating Outdoor Misting Fan combines powerful misting capabilities with reliable performance. It is a convenient and effective solution for cooling outdoor spaces, providing comfort during hot days.
Pros
Significant temperature decrease
Continuous misting with garden hose connection
Customizable airflow
Durable for outdoor use
Versatile for residential and commercial use
Cons
Requires nearby water source
TYZU Clip Battery Operated Misting Fan For Outdoor Camping
Specifications
Mist Modes: Continuous and intermittent
Water Tank Capacity: 130ml
Fan Speeds: 4 speeds, including natural wind mode
Rotation: 360-degree horizontal and vertical
Night Light Modes: 2 options
Timer Settings: 3 options (2H/4H/6H)
Battery Capacity: 4000mAh, rechargeable via micro type-c port
Stay cool and comfortable even in the scorching heat with the TYZU Clip Battery Operated Misting Fan. This portable fan is designed to provide a refreshing breeze and a cooling mist, making it an excellent choice for outdoor activities like camping and traveling.
One of the standout features of this fan is its dual mist modes. You can choose between continuous misting or intermittent misting, depending on your preference. The built-in 130ml water tank allows for 1-2 hours of misting, helping to lower the temperature and provide relief from the heat.
The fan offers four-speed options, including a natural wind mode for a gentle breeze. With its sturdy grip clamp, you can easily attach the fan to various surfaces up to 2 inches thick, such as strollers, tents, and golf carts. It's a versatile companion for both outdoor and indoor use.
Also Read: Best Small Quiet Desk Fans
The fan can rotate 360 degrees, allowing you to direct the airflow wherever you need it most. It also features two night light modes, adding a cozy ambiance to your surroundings. Additionally, the fan offers three timer settings, so you can customize its operation to suit your needs.
Portability is a breeze with its compact size and lightweight design. The powerful 4000mAh rechargeable battery ensures a long-lasting operation, ranging from 3.5 to 10 hours depending on the speed setting. You can conveniently charge the fan using the micro type-c port, compatible with various devices.
Pros
Customizable misting and airflow
Easy attachment with secure grip clamp
Versatile rotation for optimal air direction
Lightweight and portable for convenience
Long-lasting battery with various charging options
Cons
Limited misting time per water tank fill
The Ultimate Guide to Choose Best Outdoor Misting Fans
What is Mean of Misting Fan?
A misting fan refers to a specialized type of fan that offers a unique cooling mechanism by producing a fine mist of water or a mixture of water and air. This innovative combination combines the benefits of water evaporation and air circulation to create a refreshing breeze that effectively lowers the surrounding air temperature. The misting fan releases tiny water droplets into the air, which rapidly evaporate, drawing heat from the environment and providing a cooling sensation.
Misting fans have gained popularity, particularly in outdoor settings such as patios, decks, sports events, amusement parks, restaurants, and various social gatherings where people seek relief from the heat. These fans are especially sought after during hot summer months or in regions characterized by high temperatures, as they offer a practical solution for staying cool and comfortable.
The technology behind misting fans has the potential to significantly enhance outdoor conditions by mitigating heat stress, thereby making outdoor activities more enjoyable and bearable even in extremely hot weather. One of the key advantages of misting fans is their ability to create a pleasant and comfortable environment without leaving users overly wet or soaked.
Also Read: Best Fans that Cool and Heat your Room
It's important to note that misting fans have become a popular choice due to their unique cooling capabilities and their ability to provide relief from the heat in a convenient and effective manner. The use of misting fans in outdoor spaces has revolutionized the way people cope with high temperatures, allowing them to stay cool and comfortable even during scorching hot days.
How Effective would Outdoor Misting Fan Cool?
Outdoor misting fans are known for their effectiveness in cooling the surrounding area. These fans combine the power of water evaporation with the air circulation generated by the fan to create a refreshing breeze that can noticeably reduce the ambient temperature.
The cooling effectiveness of an outdoor misting fan can vary depending on several factors, including the humidity levels and prevailing weather conditions. In regions with low humidity and dry climates, misting fans perform exceptionally well. The fine mist produced by the fan evaporates quickly, absorbing heat from the air and resulting in a significant cooling effect. This can make the outdoor space much more comfortable and enjoyable.
However, in areas with high humidity, the cooling effect of misting fans may be slightly diminished. This is because the air already contains a high level of moisture, making it more difficult for the mist to evaporate rapidly and extract heat effectively. Nevertheless, misting fans can still provide some relief by increasing air movement and creating a localized cooling sensation.
Also Read: Best Bladeless Cooling Fans
It's important to keep in mind that while outdoor misting fans are effective at cooling the immediate vicinity, their cooling range is limited. The cooling effect is most pronounced within a few feet of the fan. Therefore, for optimal results, it is advisable to position the misting fan in close proximity to the area where you desire the cooling benefits.
In conclusion, outdoor misting fans can be highly effective in providing relief from the heat and improving outdoor comfort. Their ability to combine water evaporation and air circulation offers a refreshing and cooling experience, particularly in dry climates or regions with low humidity.
What Type of Misting Fan Solutions are there?
There are, for the most part, four unique kinds of moistening fans and arrangements which can help chill you off. They are:
Floor Standing Fans
These have a base, an expanding shaft and the fan appended on the top. They can without much of a stretch be moved around any place you need them. At the point when utilized outside, they have a hose association for water supply, and attachment into an electrical outlet for control. Most can be balanced for tallness and incorporate a wavering capacity.
Wall-Mounted Fans
This authority style is fixed to a wall or roof and, once more, interface with an electrical plug and water supply. They can be tilted to give a moistening splash at the point required.
Also Read: Best Wall Mounted Fans Reviews
Reduced or Portable Fans: Generally a lot littler than a story-standing model, these sirs occupy less floor room. Their capacity supply could be from power, or batteries in certain models. The water supply might be from a nursery hose, an inner water tank, or an outside compartment.
Misting Kits
These packs convert your standard fan by connecting hoses and spouts to give a moistening capacity. They incorporate all you have to effectively gather, and give you the cooling intensity of water nearby the wind current of your fan.
Factors To Look In Best Outdoor Misting Fans
When searching for the best outdoor misting fans, there are several key factors you should consider. Let's take a closer look at these aspects to help you make an informed decision.
Indoor or Outdoor Use
Think about where you plan to use your misting fan. Some models are designed specifically for either indoor or outdoor use, while others can be used in both settings. If you intend to use it exclusively outdoors, ensure it's made of weatherproof and rustproof materials, with components that are protected from the elements. Also, check if the power source is well-insulated.
Floor Standing or Portable
Consider whether you prefer a floor-standing fan or a portable one. Floor-standing models may take up more space but tend to distribute air and mist more effectively. Portable fans offer greater mobility, though they still require access to power and water. Battery-operated fans are highly versatile for remote locations, although they may have slightly less misting power compared to mains-powered ones.
Also Read: Best Bathroom Exhaust Fan with Humidity Sensor
Power Supply – Mains or Battery
Your choice of power supply depends on your specific usage requirements. If you have access to a power outlet, a mains-powered fan will work well. However, if you desire flexibility and want to use the fan in various locations, a battery-powered option is more suitable. Battery-powered fans are perfect for tailgating, camping trips, beach days, or areas without a power source.
Size and Coverage
Fans come in different sizes, blade speeds, and oscillation capabilities. Larger blades and higher fan speeds generally provide greater coverage. If you have a small deck and only need to cool a limited area for a few people, a compact fan should suffice. For larger yard spaces, opt for a model with higher speed and a wider coverage area. Look for the fan's cubic feet per minute (CFM) rating, as a higher CFM means better airflow and the ability to cool larger areas.
Structure
Consider the design and aesthetics of the fan. Fans come in various shapes, sizes, and colors. Ensure the style blends well with your patio or outdoor setting, so it doesn't stand out too much while keeping you cool.
Also Read: Best Wall Mounted Fans for Outdoor
Convenience
The ease of use is an important factor. Look for a misting fan that is user-friendly and hassle-free to operate. Ensure you have the necessary water and power connections in place. Many fans are quick to assemble, ensuring you can start cooling off in no time. Conversion kits are also available, providing everything you need to transform a regular fan into a misting fan quickly.
Budget
Consider your budget when choosing an outdoor misting fan. While prices can vary, remember that quality often correlates with price. Avoid purchasing extremely cheap options, as they may not last as long or provide the desired performance. If you already own a fan, a conversion kit might be the most affordable option. However, if you're starting from scratch, invest in the best outdoor misting fan within your budget.
FAQs on Outdoor Misting Fans
Can I use an outdoor misting fan indoors?
Yes, you can use an outdoor misting fan indoors, but it depends on the specific model and its features. Some outdoor misting fans are designed for both indoor and outdoor use, offering versatility in their functionality. However, it's important to note that when using a misting fan indoors, you should ensure that the misting feature can be turned off. Excessive moisture indoors can cause dampness, mold, and other issues. Therefore, it's crucial to check the product specifications or consult the manufacturer to confirm if the misting feature can be disabled for indoor use.
Also Read: Best Quietest Fan Review
How far does the misting reach?
The misting reach of outdoor misting fans can vary based on multiple factors, including the design of the fan and the water pressure. Generally, misting fans can project mist several feet away from the fan, providing a refreshing coolness within that range. However, it's important to consider that wind conditions and other environmental factors can affect the misting reach. To get a better idea of the misting range, it's advisable to refer to the product specifications or customer reviews, as they often mention the approximate distance the mist can travel.
Can I use a battery-operated misting fan without access to power or water?
Battery-operated misting fans are designed for portability and convenience, allowing you to use them in various locations without relying on a power source. However, they still require a charged battery and a water supply to operate the misting function. While you won't need a direct power connection, it's essential to ensure you have a fully charged battery before using a battery-operated misting fan. Additionally, you'll need access to a water source, such as a refillable reservoir or a hose, to provide the necessary water for misting.
Are outdoor misting fans weatherproof?
Yes, outdoor misting fans are typically designed to withstand outdoor conditions and are constructed with weatherproof materials. They are built to endure exposure to sunlight, moisture, and other environmental elements. Weatherproof features include rust-resistant components, UV protection for plastic parts, and coatings to prevent water damage. However, it's important to note that even weatherproof misting fans may require some maintenance and protection during extreme weather conditions, such as storms or heavy rain. To ensure the longevity and optimal performance of your misting fan, it's recommended to follow the manufacturer's guidelines for maintenance and storage.
Also Read: Is Sleeping with a Fan On is Good or Bad
How do I clean and maintain an outdoor misting fan?
Cleaning and maintaining an outdoor misting fan is essential to ensure its efficient operation and longevity. While specific cleaning instructions may vary among different models, here are some general guidelines:
Turn off the fan and unplug it from the power source before cleaning.
Use a soft cloth or sponge dampened with mild soap or a gentle cleaning solution to wipe down the fan blades, misting nozzles, and other accessible parts.
For stubborn dirt or grime, you can use a soft brush or toothbrush to gently scrub the affected areas.
Avoid using abrasive cleaners or harsh chemicals, as they can damage the fan's components.
Rinse the fan with clean water to remove any soap residue.
Ensure that all parts are thoroughly dry before reassembling and reconnecting the fan.
Regularly inspect and clean the misting nozzles to prevent clogging caused by mineral deposits or debris.
Always refer to the manufacturer's instructions provided in the product manual for specific cleaning recommendations and maintenance tips tailored to your misting fan model.
Can I adjust the misting intensity?
Yes, many outdoor misting fans offer adjustable misting intensity settings to suit your preferences. These settings allow you to control the amount of mist that is emitted from the fan. Depending on the model, you may have options such as low, medium, and high misting settings. Some misting fans also provide variable speed controls to adjust the fan's airflow in conjunction with the misting intensity. To determine the available misting intensity options, it's advisable to refer to the product specifications or user manual for detailed information.
Also Read: Best Tower Fan with Ionizer Air Purifier
How noisy are outdoor misting fans?
The noise level of outdoor misting fans can vary depending on factors such as the fan's design, motor power, and operating speed. While some misting fans are designed to operate quietly, others may produce noticeable noise due to the higher airflow or motor strength required to generate the misting effect. If noise is a concern for you, it's recommended to look for models that specifically mention low noise operation or check customer reviews for feedback on noise levels. Additionally, placing the fan at a reasonable distance from seating areas or using it on lower speed settings can help minimize noise levels while still providing a cooling mist.
Can outdoor misting fans be used without the misting function?
Yes, most outdoor misting fans can be used without utilizing the misting function. These fans often come with separate controls or settings for the misting feature, allowing you to choose whether to use it or not. By turning off the misting function, you can still benefit from the fan's airflow and cooling capabilities. This flexibility is useful when you prefer to use the fan in different weather conditions or when misting is not required, such as during periods of high humidity.
Are replacement parts available for outdoor misting fans?
Yes, replacement parts for outdoor misting fans are often available, depending on the manufacturer and model. Over time, certain components of the fan, such as misting nozzles, filters, or fan blades, may require replacement due to wear and tear. To obtain replacement parts, it's recommended to check with the manufacturer or authorized retailers. They can provide information on the availability of specific replacement parts for your misting fan model. It's advisable to keep the original product documentation or receipts as they may contain warranty information or assist in acquiring the appropriate replacement parts.
Also Read: Best Bathroom Exhaust Fans and Lights Combo
Conclusion
In conclusion, finding the best outdoor misting fan requires careful consideration of various factors. By assessing your specific needs and preferences, you can choose a misting fan that suits your outdoor environment and provides optimal cooling comfort.
By evaluating each factor and taking into account personal preferences, you can confidently choose the best outdoor misting fan that meets your cooling needs, enhances your outdoor experience, and helps you stay comfortable during hot summer days. So, go ahead and enjoy the refreshing mist and cool breeze provided by the best outdoor misting fan tailored to your requirements.