In today's world, technology has revolutionized our lives, transforming every device into a smart and convenient tool. As technology continues to advance, we all strive to stay updated and embrace these innovations. One such advancement is the introduction of smart ceiling fan control, which allows us to easily manage our fans using features like Wi-Fi connectivity or voice assistants such as Alexa and Google Assistant. With this intelligent fan controller, you can transform your existing ceiling fan into a smart device without the need to purchase an entirely new one.
Personally, I have already invested in my current ceiling fans because I appreciate their aesthetic appeal. They blend seamlessly with my decor and provide the lighting and fan speed options that I desire. Moreover, they still function perfectly. So why should I consider replacing them?
Also Read: Most Expensive Ceiling Fans
Despite these factors, there is a simple solution that doesn't require me to spend a fortune on a brand-new smart ceiling fan. By acquiring a smart fan controller, I can upgrade my existing ceiling fan to a smart one. Not only is this option more cost-effective, but it also offers a wider range of choices compared to the limited selection of smart fans available in the market.
Therefore, there is no need to invest a significant amount of money in purchasing an entirely new smart ceiling fan. Instead, there are affordable alternatives that allow you to retrofit your current ceiling fan with smart control capabilities, providing you with the best of both worlds.
Best Smart Ceiling Fan Control
| Image | Product | Price |
| --- | --- | --- |
| | Bond Best Smart Remote Controller | Check Price |
| | Pecham Best Ceiling Fan Remote Control Kit | Check Price |
| | Hunter SimpleConnect Best Bluetooth Control Fan Controller | Check Price |
| | Fanimation Fansync Bluetooth Controller | Check Price |
| | Ai-Sync Smart Ceiling Fan Remote Control with Wi-Fi Enabled | Check Price |
| | DYMCO Smart WiFi Fan Light Switch | Check Price |
1. Bond: Best Smart Remote Controller
Experience the convenience and versatility of smart ceiling fan control with the innovative Bond controller. This cutting-edge device allows you to effortlessly record and reproduce the signals sent by your remote control. Once recorded, Bond faithfully replays these signals whenever you or your smart home command it to do so, effectively mimicking the actions of your remote control.
With Bond, you can record and playback any function that your remote is capable of controlling, including fan speed adjustments and light dimming. Connecting your ceiling fan to Bond makes it a breeze to integrate voice control through Amazon Alexa.
Setting up Bond is a breeze, as it can be placed virtually anywhere in your home. The RF signals commonly used by ceiling fans easily penetrate standard walls, providing coverage of up to 40 feet. Additionally, Bond needs to be within the WiFi range of your home router for seamless operation.
Also Read: Best Ceiling Fan for Living Room
While Bond may initially seem like a pricey investment, it offers the ability to control up to six devices simultaneously. Although it is primarily marketed as a ceiling fan controller, Bond's capabilities extend beyond just ceiling fans. It can effectively manage any device that utilizes an RF signal.
The greatest advantage of using a WiFi ceiling fan control like Bond is the absence of wiring requirements. If the thought of tinkering with your wall switches using a screwdriver makes you apprehensive, Bond presents an excellent alternative. Enjoy the benefits of home automation without any installation hassle.
2. Pecham: Best Ceiling Fan Remote Control Kit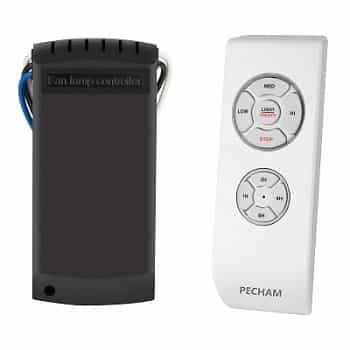 Pecham stands out as one of the top choices for smart ceiling fan control kits. This exceptional device offers a seamless experience, ensuring optimal control over your ceiling fan without any drawbacks. One minor inconvenience to note is that the previous versions emitted a sound beep whenever a command was received. However, the latest iteration has addressed this issue, eliminating the irritating sound beep altogether. This enhancement greatly enhances the integration of your smart home infrastructure, allowing for a more harmonious and tranquil environment.
The Pecham ceiling fan remote control kit boasts a separate switch dedicated to adjusting the fan speed. With three speed options available, you can easily customize the airflow to your preference. Additionally, it features a separate switch to control the fan's light, providing convenient independent control over both functions.
The operational range of this smart device extends up to an impressive 49 feet, allowing you to effortlessly manage your ceiling fan from a considerable distance. Enjoy the convenience and comfort that Pecham's smart ceiling fan control kit brings to your home.
3. Hunter SimpleConnect: Best Bluetooth Control Fan Controller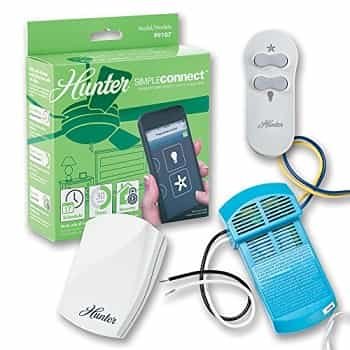 The Hunter SimpleConnect Control revolutionizes ceiling fan control with its advanced smart features. By harnessing the power of Bluetooth technology, this control system comprises a receiver installed within the ceiling fan and a Bluetooth hub that seamlessly transfers signals from the fan to your smartphone.
However, when considering smart ceiling fan control options, it is important to note that the SimpleConnect control currently operates in isolation, without integration with other smart home devices. To utilize its features, you need to access the SimpleConnect application on your smartphone within Bluetooth range and manually navigate the settings you wish to adjust. Essentially, it replaces the wall switch with a pocket-controlled interface. However, in many cases, the traditional wall switch proves to be faster and more reliable.
Also Read: Best Kids Ceiling Fans
Looking ahead, it is possible that Hunter may explore expanding the capabilities of the SimpleConnect application and integrating it with other platforms. In its present form, though, the SimpleConnect control may not offer significant advantages or practical use beyond its current functionalities.
4. Fanimation Fansync: Bluetooth Controller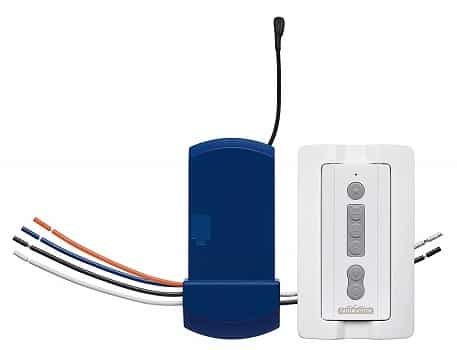 Fansync, a cutting-edge Bluetooth-enabled device similar to the Hunter SimpleConnect, revolutionizes the way you interact with your ceiling fan. By transforming your smartphone into a sophisticated and convenient remote control, it enhances the functionality and accessibility of your fan within the range of Bluetooth connectivity.
The sleek blue module seamlessly integrates into the housing of your ceiling fan, allowing for seamless control and operation. Accompanying the Fansync module is a wall-mountable remote, designed with user convenience in mind.
Fansync is not limited to Fanimation brand ceiling fans. In fact, it can be used with most ceiling fans equipped with an AC motor, granting you versatile control options for various fan models.
Moreover, Fanimation has recently introduced WiFi-enabled versions of their receiver. These receiver models are specifically designed to be installed in compatible Fanimation ceiling fans. The new WiFi-enabled version is fully compatible with popular voice assistants such as Alexa and Google Assistant, bringing an additional layer of convenience and hands-free control to your smart home setup.
5. Ai-Sync Smart Ceiling Fan Remote Control with Wi-Fi Enabled
The Ai-Sync AiS Smart Ceiling Fan Control revolutionizes the way you interact with your ceiling fan. By incorporating Wi-Fi technology, this device enables you to effortlessly manage your fan's functions. With a simple installation process involving a receiver placed inside the fan, you gain the ability to turn the fan on or off, adjust the speed settings, and even control the light unit, all from the convenience of your smartphone through the dedicated application. Additionally, for those who prefer a more traditional approach, the Ai-Sync AiS Smart Ceiling Fan Control comes with a conventional remote control.
Also Read: How to wire a ceiling fan 
Enjoy the ultimate convenience of controlling your fan's power using voice commands through popular virtual assistants like Amazon Alexa or Google Assistant when you're at home. Thanks to its compatibility with IFTTT, the controller seamlessly integrates with smart home services such as Nest, Ecobee, and Ring, allowing you to create customized automation routines and further enhance your living environment.
6. DYMCO Smart WiFi Fan Light Switch
Luckily, there is no need to purchase a new ceiling fan to experience the convenience of automation technology. The DYMCO Smart WiFi Fan Light Switch is designed to replace your ordinary light switch, enabling smart control of your ceiling fan. Installation is a breeze, taking approximately 30 minutes and is straightforward enough for even novice DIY homeowners.
This touch control switch boasts a blue LED indicator, ensuring that you can easily locate it even in the dark. With compatibility for Amazon Alexa and Google Assistant, you can effortlessly control the fan and adjust its speed using voice commands. Moreover, automation features such as setting schedules and controlling the fan remotely are accessible through these platforms or the DYMCO smartphone application.
What is Meaning of Smart Ceiling Fan Control?
Before I escape, I ought to presumably clarify what I mean when I talk about smart ceiling fan control. A brilliant ceiling fan has its lights and its fan that has associated with your smart home. When your ceiling fan associated with your smart home system, you can control it remotely with your cell phone or by setting up predefined standards or connections with other savvy home items.
Also Read: Best Ceiling Fan with Pull Chain Control 
An optimal brilliant smart ceiling fan control ought to have:
Those who need the alternative option to have fans and lights consequently turn on/off when I enter/leave a room. This is typically finished with movement sensors.
Voice control. I'm a major Amazon Alexa client, yet the other significant voice associates can work similarly too.
In addition, I should even now have the option to turn them on/off with a wall switch. There's consistently times when a decent, good old wall switch is both simpler and quicker.
Smart ceiling fan also have the option to control fan dependent on temperature readings from smart thermostat.
Smart Ceiling Fan Control Using a Smart Switch
If you have separate wall switches for your ceiling fan and light, you can optimize their control using smart technology. By installing a smart switch for the light and a smart fan controller for the fan speed, you can enhance the functionality of both devices. These smart switches are integrated into the wall, replacing your existing switches.
This setup provides ample opportunities for customized control but requires some programming. The smart switches do not come with pre-installed "rules." You will need to program each desired smart action for your fan using your smart hub software.
With a smart switch, you retain the ability to control your fan manually using the wall switch. However, you also gain the convenience of smart control. With some additional effort, you can even configure control using motion sensors or voice commands.
Also Read: Modern Ceiling Fans with Light and Remote Control
Conclusion
The market for smart ceiling fan control is still relatively new, and there aren't any all-in-one solutions available yet. However, there are existing options that can still meet your needs effectively.
For comprehensive ceiling fan control, the use of smart switches is recommended. Smart switches offer great flexibility, but they do require some effort to set up. You'll need a smart hub, and any smart home integrations will need to be programmed using your hub's software. Depending on your experience level, this process can be time-consuming and challenging. If you're a casual user, it might be more trouble than it's worth.
On the other hand, a product like Bond is well-suited for those who aren't experienced smart home enthusiasts. It provides a simple and quick solution, with features like voice control and compatibility with IFTTT (If This Then That). These are perfect for individuals who want some home automation without delving too deep into programming. Additionally, the cost per fan is quite low when used with multiple fans.
Bluetooth solutions, for now, are relatively limited in their capabilities. They mainly turn your smartphone into a remote control for your ceiling fan. They lack smart home integration, making them unsuitable for hardcore users. There's no voice control, no IFTTT support, and they only work within Bluetooth range. Therefore, even for casual users, I believe Bond would be a better choice.
If you come across a smart ceiling fan controller that I haven't mentioned here, please let me know in the comments below so I can check it out. I'm always on the lookout for the latest smart home products.